It's amazing how much more scrapbooking I can do now that I have Jonathan as the cutest subject in the world! The last two Saturdays, Chris has watched 'little boy' while I've gone to
Archiver's
to scrap with the girls. I'm so blessed to have a husband who loves spending time with his son, and doesn't mind me being gone ALL DAY. Two Saturdays ago on the 10th, I met up with Lisa, Rebecca, Kimberly and Laurel. We had such a good time, chatting and being creative. Poor Rebecca, she had a slight chair situation and fell on her bottom. Thankfully she wasn't hurt (too badly) and we all had quite a chuckle. We were all wishing we had our cameras to document the event, but to Rebecca's delight, no one had brought one.
Although we were there for 12+ hours, I only completed 2 layouts. How sad is that? Here are the two I did: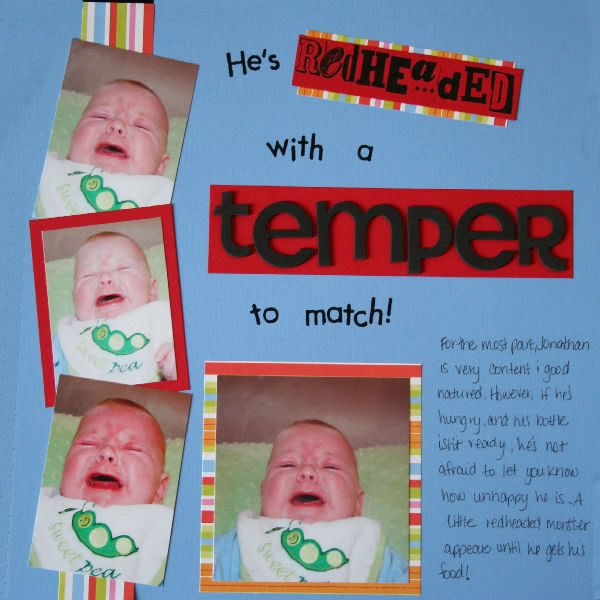 I was quite honored to have Kimberly do a layout for me. She's on several design teams, and has been published in some magazine. She's a celebrity in my eyes! Love ya, girl! She did Jonathan's one month picture:

This last Saturday, I planned ahead a little more & was able to get four layouts done. It still doesn't sound like a lot, but when you consider that I did two make & takes, went to lunch, and spent God only knows how long on one of them doing measurements, it's not too bad. Here are the ones I did this weekend: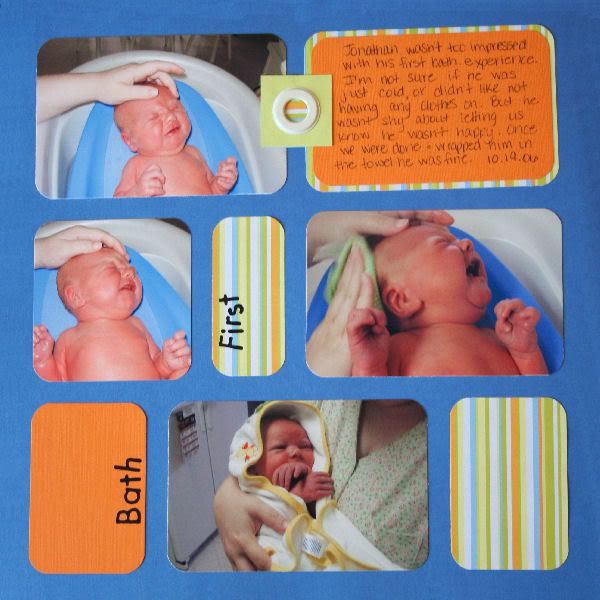 I'm sorry the quality of these aren't too great, but my scanner won't do 12x12, so I have to just take pictures of them & hope for the best. I also altered a notebook cover, but I didn't take a picture of it. Maybe I'll do that tomorrow.

In other "news", we took Jonathan back to the doctor yesterday. He's been coughing for several days now, and had started sounding congested, so I called the office & they thought it would be best if we brought him in to get checked out. I guess they've had a lot of RSV going around, and didn't want to take any chances. RSV is a scary, scary thing, so I was all for going in. Thankfully, all was well, and it's just a little cold or something. She said his lungs sounded good and his ears looked good, so we just kind of need to ride it out. We bought some saline drops to use on his nose to help get the "boogies" out, and boy does he hate it. I feel so bad for him, but we have to do it.

Today Lisa and I went to the Kidsignments sale. It's basically just a huge consignment sale. I was amazed at all of the toys & clothes that they have. You can really rack up & get some good stuff for really inexpensive. For example, they had some bouncy seats for like $2.00! Unbelievable. I got Jonathan several outfits today & only spent about $37.00. I'll probably go back when they have the next one in August & get him some "stand up" toys. He's not ready for them yet, but he should be by then.

Game night is this Saturday, and I'm really excited. Chris and I bought a new game the other night, Scene It: Squabble, and it looks like a lot of fun. It pits men against women in pop culture questions. We always play men vs. women anyway, so it should be interesting.
One last thing... Congratulations to Michael & Lisa! They found out last Friday that they're having a girl! That will make three girls for them, and I know they're excited. We can't wait to meet you, newest Clavell!
My, this was a long one. I'm off to bed now, have a great night!