It's Thanksgiving time again! This time of year always makes me think of all of the things I'm thankful for. As always, I'm eternally thankful for my wonderful husband, he's my rock and I don't know what I'd do without him. I've been so blessed with such a great circle of family and friends, I know I don't tell them often enough how much I appreciate them. And of course, this year, I have someone new to be thankful for, my son, Jonathan. God has truly blessed us with an amazing child. There were definitely times that I wondered if we would ever be able to have children, but God's timing is perfect, as always. Jonathan is such a blessing to us, I can't remember what life was like before him.
I'm also thankful for the opportunity to stay home and take care of him. Ever since I was a child all I've ever wanted was to be a Mommy, and now I wear that title like a badge of honor. I can't believe he's already going to be six weeks old this week. It's amazing, and kind of sad, how quickly the days go by. I could spend hours (and I do) just looking at his sweet face. He's started smiling now, really smiling at you, not those "baby smiles" that are random. It's so rewarding to get a little smile when you're talking to him. I can't wait to see how his personality develops as he gets older.
Here are a couple of pics I took on his 4 week "birthday":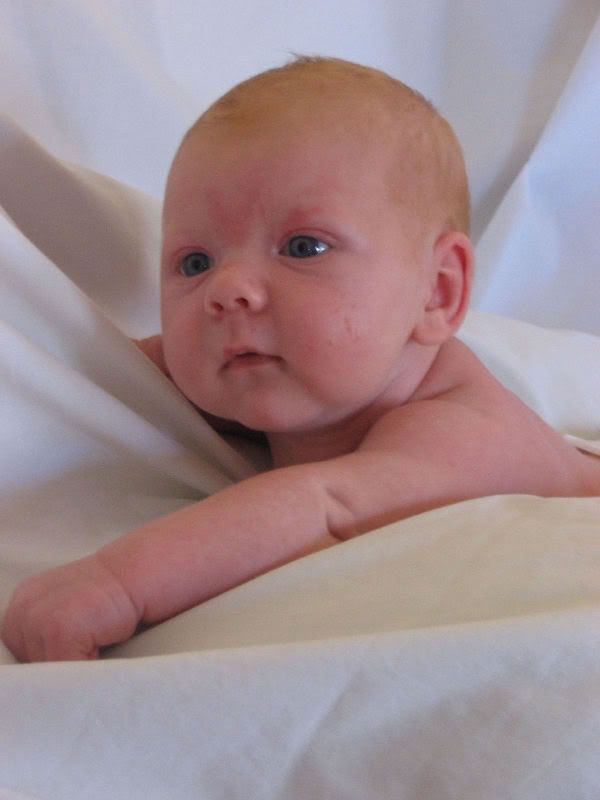 My grandfather and his wife came from Missouri to visit about a week ago. He's quite smitten with his new great-grandson, and who could blame him. We took the opportunity to take a "four generation" picture while they were here. This is such a special picture as I don't get to see them much. Me, Jonathan, my mom & grandfather:
I guess I'd better head to bed now and try to get some sleep. I'm sure Jonathan will be up in a couple of hours wanting to eat. He actually sleeps really well. According to one book I saw, when a newborn sleeps 5 hours straight it's considered "sleeping through the night". In that case, he's pretty darn close. He usually sleeps about 4 1/2 hours a stretch at night, so we're very lucky in that area.
Until next time...