I can't believe it's December already. Since Jonathan's been here time has been flying by. But it's worth every minute.
We had Jonathan dedicated on 11/26. A lot of people were there for his special day; my parents, Haley, Chris' parents, Grandma Ruby, Aunt Bevvy, Aunt Sandra & Uncle Claude, Kevin, Pam & Destiny, Mike & Janie & Kori all came out to be a part. It was held at
All Nations Church
and Pastor Frank did a wonderful job. He spoke some great things over Jonathan. It was such an emotional time. Us and the other two couples who were having their children dedicated had all suffered with infertility and/or miscarriages, so it was truly a miracle that we were all standing there. Thankfully Kevin was kind enough to video the dedication for us so I can go back & hear again what Pastor Frank said. Here are a couple of pictures that Haley took: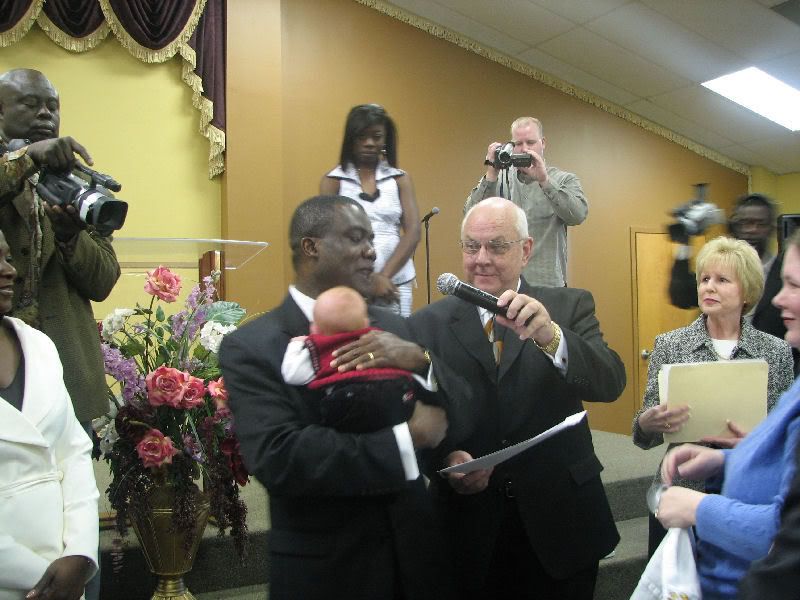 Chris' parents bought Jonathan the cutest outfit for him to wear. He looked like such a little man in his cordoury pants & sweater vest.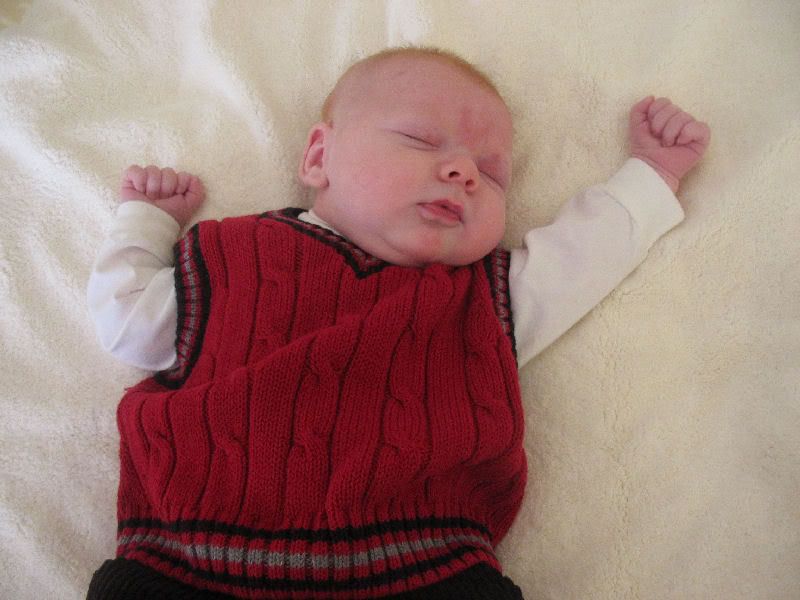 Another big thing happened this week... I went in to Hitachi & gave my notice that I'm not returning to work. I have to say that no one was too surprised. It's been my goal to be a stay at home mom since forever, and I've never been too shy about it. My boss was very understanding & said that she knew I was making the best decision for us. It was a little weird knowing that I won't be going back to work there anymore; even though I'd known since before Jonathan was born, it was finally official. I'd worked there since 1998 and had made some good friends. While I'll miss them, I know I'm doing what I was put on this earth to do, and I wouldn't change it for anything.
Christmas season is upon us again. I won't be doing a whole lot of shopping this year. We decided to have a family photo taken & that will be the gift for most, if not all of our family. It really takes the pressure off knowing that I don't have to brave the malls. I still have to decorate the tree. It's been sitting in our living room since the night before Thanksgiving. I had grand intentions of having it all decorated since everyone came over here for dinner, but Mom & I didn't start cooking until 10 p.m. and by 3 a.m. when we were done, I was just too tired. I tried to have a "tree decorating party" after we ate Thanksgiving dinner, but no one seemed too interested. So, there it sits, still bare. Well, it does have a Winnie-the-Pooh angel on top, so that should count for something. Haley is coming over for a bit tomorrow, and I think we're going to decorate it then.
It's about time for the little man to eat again, so I guess that's a wrap for now!