I hope everyone had a great Christmas! I can't believe it's over already.
We spent Christmas Eve with Chris' parents, Grandma & Bevvy and had a great time. It was so much fun spending time with them; of course most of the time was spent watching Jonathan. What was he doing? Oh nothing really, but it's amazing how long you can sit and watch him just lay in the floor and kick! On Christmas my parents, grandma & Haley were all here. And of course Jonathan was the center of attention. He's just so cute you can't help it. He really racked up on the gifts both days, but of course he has no idea. Here's a picture of all of his loot:
He got an activity center from Chris' parents, a Bumbo Seat from us, and as you can see, so much other stuff! He's definitely got enough clothes & toys to last him awhile!
I must've been on Santa's "nice list" this year too! (Giving birth to the first child & grandchild helped tremendously I think! LOL) Chris' parents got me a wonderful set of stainless steel cookware. Now that I'm staying home and cooking more often, I really needed a new set. I feel so professional! If only owning good cookware could imrove my cooking skills!
I thought Chris and I had decided to just do a "together gift". We bought a new all-in-one photo printer, so I didn't get him anything else. Well, then on Christmas morning, he surprises me by telling me he'd ordered the Vera Bradley diaper bag I've been wanting:

Isn't it GORGEOUS! Chris' parents got me the wallet that matches. I'm high society now! LOL
I also got a couple of great handmade gifts from my mom & grandma. One of them was this recipe box: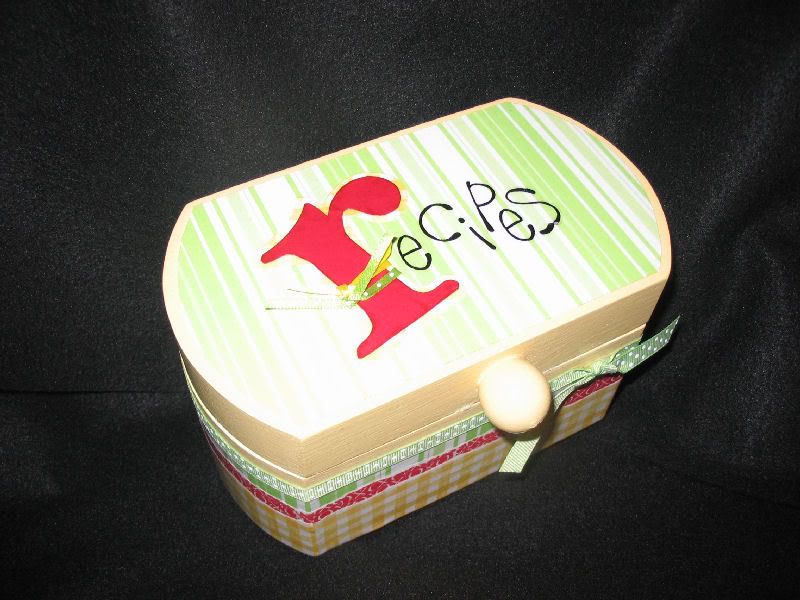 It's decorated to match my kitchen and I can't wait to fill it up with new recipes. If you have any good ones, send them my way!
Chris got a lot of great stuff too! Mostly clothes, which he needed. He also got a couple of DVD's; Elf and Glory Road. He loves both of those movies, so he was excited. I took a picture of his goodies too:
I felt bad that I didn't get him anything else, so I told him to order seasons 4 & 5 of 24 on DVD.
All in all it was a great Christmas. The gifts were nice of course, but the best part to me was spending time with our families & enjoying Jonathan's first Christmas together. Next year is going to be a lot of fun too as he'll know a little more about what's going on.
This has been a long one, but before I go, I just want to say CONGRATULATIONS to Kevin & Pam! They found out on the 22nd that they're expecting a little BOY! We are so excited for them, and can't wait to meet little Michael Ethan. Kevin & Chris have been best friends since birth, so it's exciting to think that our sons will be best friends too. Carrying on a wonderful family tradition! Now we just have to wait until February to find out what Michael & Lisa are having.....