At least I'm trying to. We started packing the hospital bag on Sunday, after doing a little shopping. Let me tell you, that made this whole "having a baby" thing more real. As of tomorrow I'll only have 5 weeks left. 5 WEEKS! And in all reality, the baby could really come at anytime, which kind of freaks me out. But, we're mostly prepared.
I wasn't too productive on Saturday unfortunately. I did manage to make a birthday card for my friend Leigh.
I have to give some of the credit to Rebecca for this one. I was having a pretty major brain cramp, and she helped me come out of it. I absolutely LOVE the alphabet stamps that I used. I think they've been used on every card I've made since buying them. The font is just too cute and they're a great size. I really like the paper too! Michael & Emily's birthdays are coming up, so I need to get their cards made in the next couple of weeks.
Something that I am really excited about is coming up on September 19th... Clay Aiken's new CD, A Thousand Different Ways is coming out that day!!! I am so ready for some "new" music from him. I say "new" because most of the songs on this CD are covers from the 70's, 80's and 90's, but to hear him sing different songs than the ones I've been listening to for the past three years will be great! He has a new look: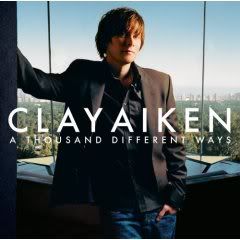 I'm still trying to get used to it, but it's growing on me.
Well, I guess that's all for now...